Nurosene Health Inc.
USA: OTC: MNNDF | CANADA: CNSX: MEND | GERMANY: FRA: 8TV
Last Price: $1.54 | Website | SEC Filings | Latest News

Subscriber,
One of the most important topics is mental healthcare and it has especially become a louder discussion in recent years given the global pandemic.
Growth in the global digital health market is set to be driven by the transformation of patient data stored in the form of electronic forms saving time and space. The implementation of mobile applications by young adults has a positive effect on the worldwide digital health market.
Apps today have become strong tools to help people take care of their mental health. It's no wonder that the global mHealth apps market size is expected to reach USD $310 billion by 2027!
An under the radar healthtech company focused on building a generation of better brains may soon capture Wall Street attention and could see tremendous upside ahead!
Featured already on Forbes, Bloomberg, CNBC and endorsed by major athletes like Michael Phelps and global pop icon Nick Jonas, this company may quickly rise to the top of a very fast growing arena!
As mental healthcare needs escalate, Nurosene Health Inc. (OTC: MNNDF) is poised to become a dominant leader in providing better brain health to potentially millions of people!
Nurosene Health Inc.
(OTC: MNNDF)
Nurosene provides individuals with tools and technology that empower them to take control of their mental wellness. The company's mission is to build the next generation of better, healthier brains by leveraging technological advancements in AI. With their team of experts and partners, Nurosene is positioned at the leading edge of critical research and innovations, striving to disrupt traditional mental wellness treatments.
MNNDF - A Sleeper Opportunity that Could Be at Ground-Floor Stages
MNNDF has been a quietly trading company but has recently began to pick up steam in trading volume...
Wall Street may have now uncovered this gem and the upside potential here could be monumental!
Especially as StockTA.com has an overall "BULLISH" rating on the stock right now as seen here: Stock Technical Analysis: Analysis of MNNDF based on EMA, MACD, RSI, Stochastic, Fibonacci, trends and gaps (stockta.com)
This is a rising niche arena that is still virtually unrecognized... mHealth apps may become the future of helping people with their mental health and brain health and MNNDF is an emerging player that could catapult to the frontline!
This is a GROUND FLOOR Situation as you are learning about this alert VERY EARLY ON. Consider this a HUGE HEAD START given the stock's 400%+ UPSIDE when compared to competitors with MUCH LESS going on than MNNDF!!!
Check out the chart and you'll see why traders are starting to flock into the play!!!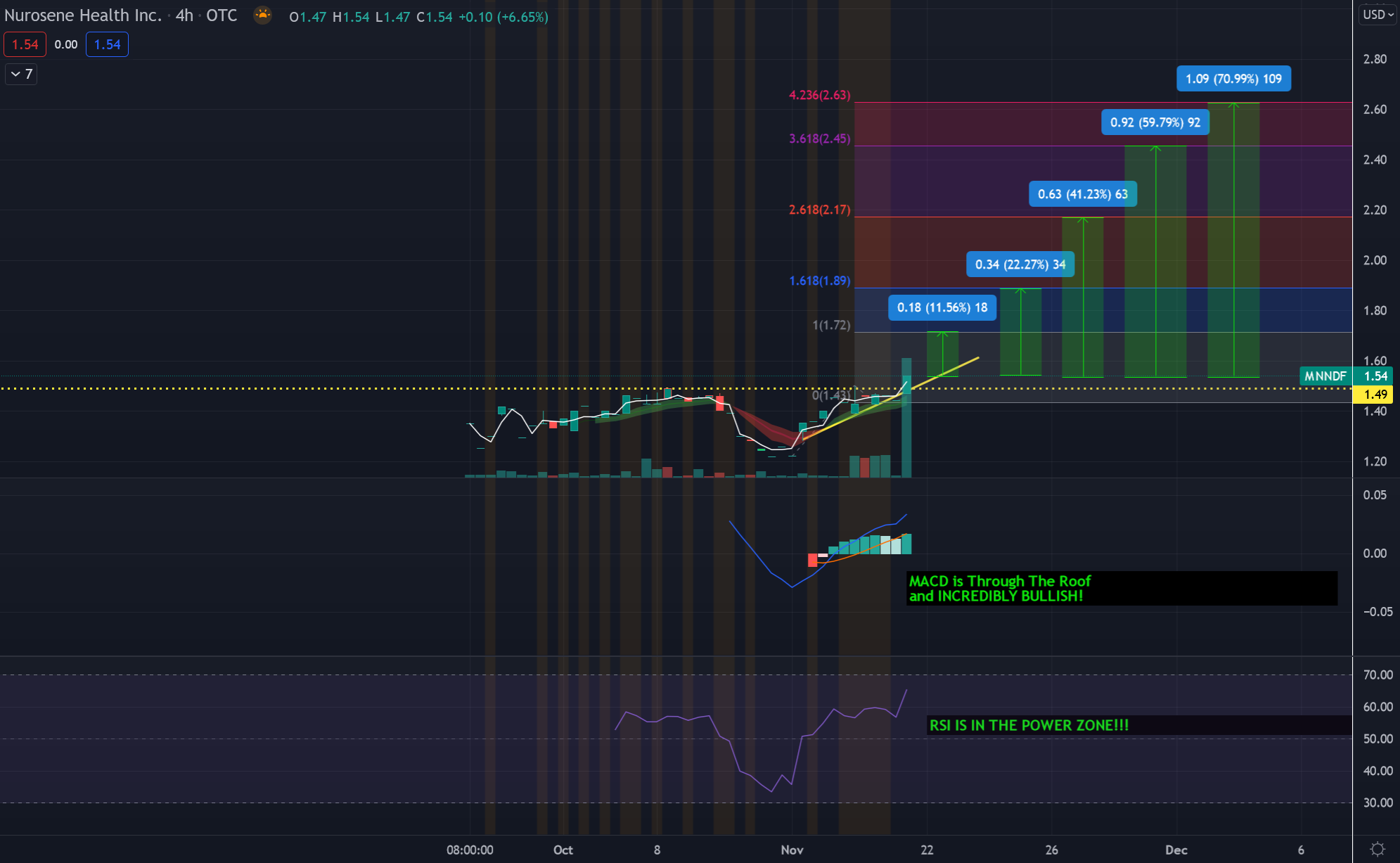 With a team of visionaries, leaders and founders, this small-cap company has a narrative that reads like a BIG BOARD player and may not be hiding under the radar much longer!
MNNDF - Introducing Health Habits into Peoples' Daily Routines
MNNDF is committed to providing tools and technology that empower individuals to take control of and enhance their mental wellness. Their mission is to build the next generation of better, healthier brains.
Nurosene is committed to finding solutions that will advance science, improve patient outcomes, and empower people suffering from poor mental health around the globe.
A healthy brain is essential for living a healthy life and MNNDF's focus is to tackle the underlying issue behind many mental health related conditions, which is often correlated with poor brain health. There are 3 essential pillars for developing and maintaining a healthy brain: Blood flow/oxygen, glucose/sugar, and activation of neurological networks.
Company Milestones
Listed on Canadian Stock Exchange (CSE: MEND), Frankfurt Exchange (Frankfurt: 8TV), OTC (OTC: MNNDF)

Launched a performance based mobile application, on the Apple App Store and Google Play Store
Total capital raised to date $11.9M CAD
Completed acquisition of leading AI company Netramark
Nuro Pro pilot project underway featuring 200 aspiring young athletes, including a neuro training program designed by Co-Founder Daniel Gallucci
Formed Mental Health Advisory Council featuring Olympian Michael Phelps

Developing infrastructure for passive data collection into the Nuro app, leveraging NetraAI technology to develop hypotheses correlated to mental health concern

The Problem
Nearly 8 in 10 adults (78%) say the coronavirus pandemic is a significant source of stress in their life.
People are affected by depression globally. More women are affected than men and depression is one of the main causes of disability worldwide.
People with mental disorders receive no treatment because of stigma, cost and accessibility.
The Opportunity
The global mHealth apps market size is expected to reach USD $310 billion by 2027. Benefits that improve lifestyle and treatment outcomes is one of the key factors driving the growth of this market.
"At Nurosene, we are on a mission to democratize mental health and empower our community of people around the world with access to tools typically found only in a clinical setting that will help to improve mental well-being."
Ranj Bath, CEO
MNNDF - Capitalizing on the Massive mHealth Market
As mentioned above, the global mHealth apps market size is expected to reach USD $310 billion by 2027. That is only a few years from now!
Benefits that improve lifestyle and treatment outcomes is one of the key factors driving the growth of this market.
North America was the dominant regional market in 2020 and accounted for a revenue share of 38.8%.
Various factors such as rapid growth in the usage of smartphones, developments in coverage networks, increasing prevalence of chronic diseases, and rise in the geriatric population in North America have accounted for this growth
MNNDF - The Brain for Your Health Through Leading AI Company Netramark
The state of ones mental health is a driving factor for their overall health and wellbeing.
Physical health is strongly dependent and correlated with the status of mental health.
Nurosene is powered by Netramark, an industry leading AI company, to collectively interpret data in a way that will disrupt traditional healthcare models.
Netramark, founded by Dr. Joseph Geraci, utilizes a new paradigm of machine learning methods capable of seeing into complex patient populations, which allows its systems to determine patterning and extract actionable insights from even small amounts of data.
Nurosene was designed to take advantage of advancements in technology and leverage the power of data, to dig deeper in understanding human behavior.
Data is allowing us to build a holistic view of the health of our community, which will allow us to take early interventional steps that positively affect mental performance.
Leveraging the power of Netramark with real-world applications from Co-Founder Daniel Gallucci, Nurosene is positioned to design the future of healthcare.
Netramark is entering into a new realm of AI focused on leveraging the power of both supervised and unsupervised learning.
Unsupervised learning provides the ability to uncover data quicker and more accurately. Netramark is applying unsupervised learning to push the boundaries in the pharma and healthcare sector.

MNNDF - An Evolution in Healthcare with the Company's Groundbreaking App
We are seeing an emerging trend where communities at scale are demanding proactive, preventative strategies, which forces science and medicine to move beyond its traditional confines.
People are moving beyond sporadic metrics of the last 60+ years.
In search of the "quantified self", we now have the potential to gather data and health metrics, in a way that optimizes for user outcomes and mimics a more real-world scenario.
Data is an optimization technique that leads to improved precision medicine and efficiency while also producing significant savings in healthcare.
The methodology behind MNNDF's mobile application is based on their 4x4™ model, which focuses on encouraging actionable strategies: 4 fundamentals (movement, brain, nutrition, and recovery) with solutions aimed at targeting 4 parts of the human body.
TRAIN YOUR BRAIN
The Nuro app features:
The Nuro app focuses on daily mental performance to help users gain the resiliency they need to excel through life.

Nuro was designed to help users discover and introduce healthy habits into their daily routine.

The activities introduced are quick and efficient, focused on the value of brain health and how it supports overall physical health.

The goal is to help users understand that micro-actions can lead to macro-results.
The Nuro app is continuously evolving to meet the needs of our community and amplify ongoing data collection.
MNNDF - Future Developments and the Pharma Opportunity
MNNDF uses an evidence-based data-driven approach to help generate insights and knowledge that will improve opportunities to develop overall solutions for mental health conditions.
The company continuously strives to provide a more holistic picture of an individual's mental health, including future integration with third-party technologies into Nuro that provide additional biomarkers, such as DNA and blood test data.
They are working with partners to decipher and create actionable solutions to better support the community.
Revolutionizing the Pharma Space
Netramark's proprietary algorithms are being used by pharmaceutical companies all over!
De-risking Clinical Trials Utilizing data to identify most-likely sub-populations that will respond to a drug.
Placebo Response A unique way of mitigating placebo response by evaluating subsets of placebo and active groups that are often ignored in standard clinical trials.
Drug Resurrection Re-igniting failed clinical trials with improved intelligence and methodologies to bring drugs to market.
Drug Repurposing For new indications as identified through databases of molecules, disease interactions, and the NetraAI technology.
New Molecule Invention Using mathematical and machine intelligence technologies for determining molecular docking and binding affinities for new drug inventions through precision drug targets discovered by the NetraAI technology.
MNNDF - Olympian Michael Phelps Joins Company's Mental Health Advisory Council
Michael Phelps is most known for being one of the best Olympic swimmers for his 23 gold medals. Many don't know that he was also drowning in depression, which led to unhealthy coping mechanisms and his final retirement from swimming after the 2016 Olympic games in Rio.
He became a strong advocate for bringing awareness to what it's like to live with mental illness.
Quarantine took a significant toll on him, and he described the pandemic as "one of the scariest times" he's been through.
Phelps has joined MNNDF's advisory council to collaborate with the other council members to share his perspective and brainstorm ideas about how to encourage others to seek help!
The council's collective knowledge will help the company develop the most helpful tools for those who need them.
By having a known Olympic athlete and mentor on the council, MNNDF hopes to draw on Phelps' experience to reach more people of all ages with its 4-step method approach to mental health: movement, brain, nutrition and recovery.
Additionally, two other sports stars were added to the company's Mental Health Advisory Council - NHL player James Van Riemsdyk and NFL star Richard Sherman.
Riemsdyk was added and will serve as an advocate and champion bringing awareness to brain and mental health and help further the company's mission to make brain health tools accessible for all, particularly young American's playing hockey.
"As a professional hockey player, brain health has become increasingly prevalent as many in the sports industry, myself included, have felt an impact from concussions or other injuries that can greatly affect one's overall mental wellness. Nurosene's advanced technology and overall mission focusing on brain health is a huge step toward bridging these mental and physical health gaps."
- James van Riemsdyk
MNNDF- Pop Icon Nick Jonas Invested in This AI-Driven Mental Health Company
Nick Jonas, has made a cash investment into MNNDF based on its mission to make brain and mental health solutions accessible for all.
"At Nurosene, we continue to bring awareness and push boundaries on how to tackle mental wellness with our NURO app, which provides a unique brain-first approach," said Ranj Bath, CEO of Nurosene. "We are ecstatic to have Nick as a supporter of Nurosene, investing in our mission to innovate, educate, and build a mental health community to bring recognition and awareness for our mental health solutions globally. Mental health is a systemic concern that we as a global community need to tackle together, to build a generation of better, healthier brains."
The investment from Nick Jonas follows Nurosene's acquisition of innovative pharmatech artificial intelligence leader, NetraMark. NetraMark's proprietary AI technology will power the company's data-driven healthtech platform and enable a new era of predictive healthcare that will evolve the company's mission.
NetraMark was recently recognized and asked by Google subsidiary Kaggle to present its leading research in ALS to scientific peers committed to ending ALS!
"I strongly believe that our mental health is paramount to our overall emotional and physical health. Nurosene is breaking down barriers and helping to destigmatize mental health, which is why I felt passionate about investing in a company that is prioritizing it and focused on bringing brain health solutions to more people around the world."
- Nick Jonas
THE BOTTOM LINE
By embracing mobile health, or mHealth, patients are able to keep track of their own health data in real time...
This world of health gone digital is still growing and MNNDF may be one of the biggest secrets to emerge in it.
The company's app could be revolutionary in helping people with their mental healthcare needs and with Michael Phelps and Nick Jonas, two notable figures in society, offering their support to the company.. it may only be a matter of time that MNNDF captures major attention!
At current levels the stock could be well worth being on top of your radar as a major ground-floor opportunity to not overlook and with OVER 400% UPSIDE this is a GROUND FLOOR SITUATION!